Who we are
AEP International is the global supplier of electronic components, systems and tooling. For over 35 years we support maritime, medical, railway, aerospace and many other industries.
With a high level of commitment and market knowledge, we provide companies with quality products.
read more
News & Events
Linac

- 08 Nov

Op donderdag 14 november 2019 vindt het najaarssymposium van de Nederlandse Vereniging Medische Beeldvorming & Radiotherapie plaats in Hotel en Congrescentrum de ReeHorst te Ede. Het symposium radiotherapie staat deze keer in het teken van innovaties en een 'kijkje in de keuken' van de..
read more
Linac

- 01 Nov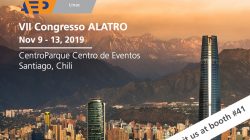 Next week AEP Linac will be heading to Santiago de Chili for the 7th congress of the Asociación Ibero-Latinoamericana de Terapia Radiante Oncológica (ALATRO).  The congress will be held from the 9th till the 13th of November 2019 at the Centro Convenciones Centro Parque.  To learn about the..
read more