Anti Condensation Heaters
HVR Pentagon Anti-Condensation heaters have been designed for use in switch and control gear cubicles, where a low wattage heater is required to prevent condensation. They comprise a vitreous enamelled resistor mounted in a sheet steel case and having a removable perforated sheet steel cover. There is a cable entry grommet at each end and M4 terminal screws are provided on the resistor.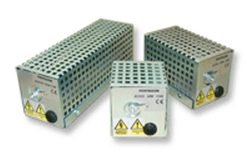 Anti Condensation Heaters.

view product