PEARL
The virtual Linac for patients.
An innovative tool to explain radiation therapy to your patients and to referring physicians.
Moving beyond simply seeing the patient on the Linac couch, look inside the patient, visualise organs at risk and see the treatment delivery.
PEARL seamlessly integrates into the existing information chain and improves on more traditional methods.
PEARL is an invaluable tool when describing your centre's capabilities to referring physicians.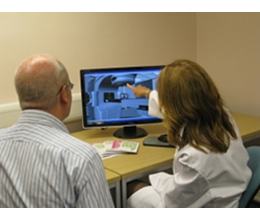 PEARL benefits
Communicate the different techniques, benefits and concepts of radiation therapy in a highly visual and compelling environment to patients; referring physicians and other healthcare professionals.
Improve patient understanding, increase awareness of radiation therapy and build confidence.
PEARL is applicable for patient information sessions in groups or one on one with individual patients. The patients own treatment plan can be used if desired.
PEARL enhances the information that you can provide, bringing real benefits to your patients and to your centre.
PEARL can be used prior to the patient having a planning CT scan using the plans avaialble, it can be used prior to treatment and also during treatment. PEARL is a versatile tool for patient information.