Catalyst PT
The Superior Solution for Patient Tracking in Proton and Particle Therapy.
The Catalyst PT solution consists of multiple cameras for full patient coverage, independent of the couch rotational position. The automatic reference adjustments ensure uninterrupted patient motion monitoring during non-coplanar treatments. To handle the different room geometries the Catalyst PT setup is highly flexible and individual mounting solutions can be offered to obtain an optimal installation configuration. To avoid any unexpected downtime for the system the Catalyst PT systems also have additional neutron shielding.
Patient Setup and Positioning
Posture errors projected directly on to the patient's skin ensures maximum accuracy of patient setup and positioning.
Clinical Benefits Patient Setup and Positioning
The pre alignment helps to correct for posture errors so that time and effort for KV-imaging are reduced.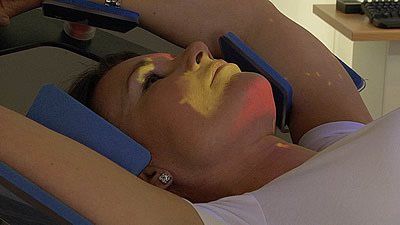 Intra-Fraction Motion Detection
With intra-fraction motion detection the positioning accuracy is maintained throughout the treatment.
Clinical Benefits Intra-Fraction Motion Detection
By monitoring the patients motions in 3D ensures that the high accuracy of the initial position is maintained. Therefore the treatment beam is accurately delivered to its target.
Respiratory Gating
Using the Markerless Gating solution with audio and visual coaching secures the most reproducible outcome and guaranties maximum patient safety.
Clinical Benefits Respiratory Gating
The intuitive aid for the patient, when given gated treatments, increases accuracy when delivering dosage to moving targets.