Catalyst HD
The Precise Answer to Stereotactic Radiation Therapy.
The Catalyst HD solution uses three cameras mounted in optimal angles for maximum patient coverage and accurate positioning during non-coplanar treatments. The intra-fraction motion detection helps maintaining the initial position of the patient throughout the treatment and permit maximum dose delivery within the target. The Catalyst HD also offers integration with high quality immobilization equipment for increased accuracy and maximum patient comfort.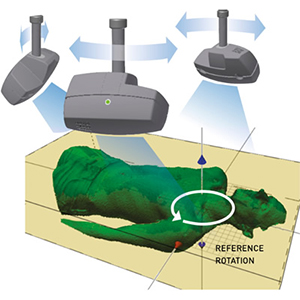 Patient Setup and Positioning
Posture errors projected directly on to the patient's skin ensures a correct patient setup and a higher accuracy in the patients position. With the posture error correction, time and effort for verification imaging can also be reduced.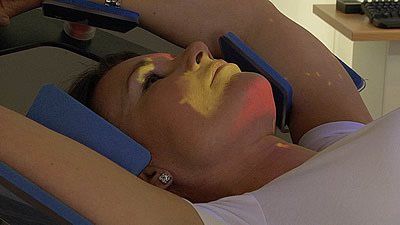 Intra-Fraction Motion Detection
With 3D intra-fraction motion detection the initial accurate position of the patient is maintained throughout the treatment and permits maximum dose delivery within the target.
Respiratory Gating
Using the gating solution with Audio Visual Coaching and the interface to Varian or Elekta enables the delivery of precisely-targeted radiation to moving tumors. This assures the most reproducible outcome and guaranties maximum patient safety.