Sentinel
The dedicated solution for motion management.
C-RAD Sentinel™ is an easy-to-use, laser based optical surface scanning system with functionality for 4D CT reconstruction and gated imaging in a CT room, as well as intra-fraction motion detection and patient positioning in a radiation therapy treatment room.
At the CT, the system provides the following benefits compared to other respiratory tracking solutions:
No markers or other equipment to be placed on or around the patient.
Tracking of both thoracic and abdominal respiratory motion in parallel.
Optional audio-visual coaching through in-room speakers and video goggles, assisting the patient to follow the optimal breathing pattern.
Breath-hold, deep inspiration and coached/free breathing modes are all supported, along with different triggering modes. This provides maximum flexibility to adapt to different patient capabilities and clinical requirements. As part of the C-RAD gating solution with a Catalyst™ system in the treatment room, all data is stored in a central database and the same surface points will be automatically tracked at every fraction without manual intervention.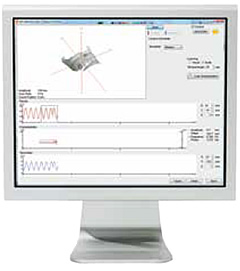 Intuitive user interface for a streamlined Clinical workflow.