XP™ Series 3F - 50F
Hot and humid environments present a variety of system engineering challenges: These conditions often limit lifespans and cause premature failure in competitor products, leading to higher numbers of field replacements and higher maintenance costs.
Maxwell's XP™ Series overcomes these common industry challenges and comprises ultracapacitor cells designed specifically for reliable performance in applications operating in adverse conditions.
The XP Series includes all the benefits of the Standard Series with the added advantages of:
Advanced structure and sealing to provide the additional protection necessary for demanding environmental conditions and strict industrial standards
3X the lifetime of Standard Series cells in high heat and humidity environments †
Industry Leading High Heat and Humidity Performance

This product line offers 2.7-volt ultracapacitor cells with storage capacities from 3 to 50 farads. XP Series cells are compliant with RoHS, UL and REACH requirements, giving you the confidence in your selection of the highest quality ultracapacitor energy storage solution for your system.
Maxwell's XP Series cells operate in applications across industries and have contributed to our customers' goal of zero system maintenance after deployment.
Design Benefits of the XP Series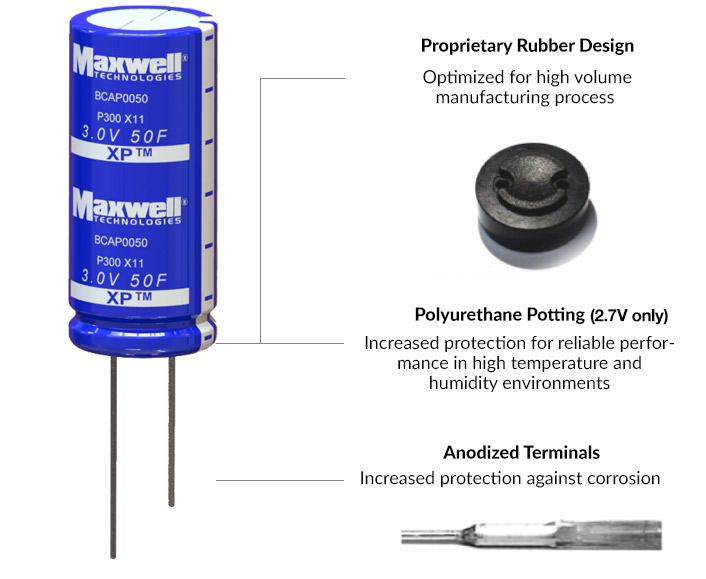 Our Technology Innovation Cultivates Customer Field Success.
At Maxwell, we take pride in having paved the path for high-power, fast-response ultracapacitor energy storage solutions designed for short-term power requirements that many industries have struggled to meet using other energy storage technologies.
Maxwell's experience in the design and development of ultracapacitor cells led to the company being first-to-market once again with a product line that provides our customers with the performance they need for high heat and humidity conditions.
Applications
Smart metering
Automotive (data logging, advanced driver assistance systems, autonomous driving, backup power)
Uninterruptable power supply (UPS)
Robotics
Telematics
Medical devices
Consumer electronics
Actuators
Emergency lighting
Security equipment
Features
Enhanced performance in high heat and humidity; Biased humidity life of 2,500 hours*
Operating temperature range of –40°C to 85°C*
3 to 50 farad capacitance range
Patent pending improvements both in structure and in sealing
Compliant with UL, RoHS and REACH
Improved ESR characteristics
Customer Benefits
Durability in demanding operating conditions results in reduced O&M costs over system lifetime
Flexibility for system operation in diverse environments
Provides flexible options for meeting customer's rigorous system requirements
Increases lifetime by threefold compared to Standard Series†
Proactive compliance with current regulatory standards, resulting in cost reduction and improved time-to-market
Higher power and energy densities meet customer specifications
* Results may vary. Additional terms and conditions, including the limited warranty, apply at the time of purchase. See the warranty details and datasheet for applicable operating and use requirements.
† Based on results from biased humidity testing.
| Rated Voltage | Rated Capacitance | Typical DC ESR | Terminal | Model Number | Datasheet |
| --- | --- | --- | --- | --- | --- |
| 2.7 VDC | 3 F | 55 mΩ | Wire Lead | BCAP0003 P270 X01 | Download |
| 2.7 VDC | 5 F | 36 mΩ | Wire Lead | BCAP0005 P270 X01 | Download |
| 2.7 VDC | 10 F | 25 mΩ | Wire Lead | BCAP0010 P270 X01 | Download |
| 2.7 VDC | 25 F | 16 mΩ | Wire Lead | BCAP0025 P270 X01 | Download |
| 2.7 VDC | 50 F | 10 mΩ | Wire Lead | BCAP0050 P270 X01 | Download |
| 3.0 VDC | 3 F | 62 mΩ | Wire Lead / Bent Lead | BCAP0003 P300 X11/X12 | Download |
| 3.0 VDC | 5 F | 35 mΩ | Wire Lead | BCAP0005 P300 X11 | Download |
| 3.0 VDC | 10 F | 20 mΩ | Wire Lead / Bent Lead | BCAP0010 P300 X11/X12 | Download |
| 3.0 VDC | 25 F | 17 mΩ | Wire Lead / Bent Lead | BCAP0025 P300 X11/X12 | Download |
| 3.0 VDC | 50 F | 10 mΩ | Wire Lead | BCAP0050 P300 X11 | Download |