DuraBlue® 3000F - 3400F
Maxwell Technologies DuraBlue® Advanced Shock and Vibration Technology combines Maxwell's patented electrode formulation and manufacturing process with a robust proprietary cell structure, resulting in a product line specialized for the most demanding shock and vibration requirements of the industrial and transportation industries.
Maxwell's proprietary electrode process results in the formation of a durable and tough electrode with the benefit of significantly longer life compared with other energy storage technologies available. Maxwell's innovative mechanical design behind the DuraBlue® product line achieves high performance and reliability for applications in the automotive, rail and hybrid bus markets.
Exceeding Industry Standards
he test standards for Maxwell's DuraBlue® product line are IEC 60068-2-27 for shock and ISO 16750-3.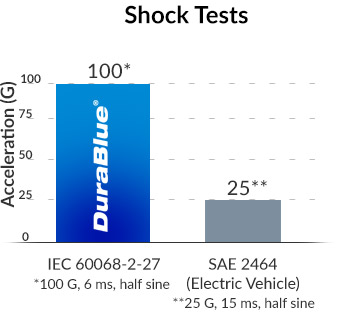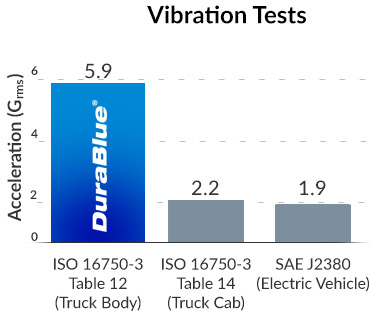 The acceleration for IEC 60068-2-27 is 100 G, four times higher than the acceleration of SAE 2464, the test standard for competitor Ultracapacitor cells.
The RMS acceleration for ISO 16750-3, Table 12 is 5.9 Grms, three times higher than SAE J2380 with an acceleration of 1.9 Grms.
Features
Meets IEC 60068-2-27 for shock and ISO 16750-3
Up to 1,000,000 duty cycles or 10-year DC life*
Up to 18 kW/kg of specific power
Up to 4 Wh of stored energy
Threaded terminals or laser-weldable posts
Customer Benefits
Exceptional shock and vibration resistance for transportation and extreme condition applications
Proven reliability in the field
50 – 60% weight savings compared to lead-acid batteries
Instant availability of high energy
Flexibility for customized systems
*Results may vary. Additional terms and conditions, including the limited warranty, apply at the time of purchase. See the warranty details and datasheet for applicable operating and use requirements.
Applications
Automotive peak power assist
Hybrid vehicles
Hybrid and plug-in hybrid bus
Wind turbine pitch control
On-board and wayside rail
Heavy industrial equipment
UPS and telecom systems
Heavy duty truck engine start
| Rated Voltage | Rated Capacitance | Typical DC ESR | Terminal | Model Number | Datasheet |
| --- | --- | --- | --- | --- | --- |
| 2.7 VDC | 3000 F | 0.29 mΩ | Threaded/Jove | BCAP3000 P270 K04/K05 | Download |
| 2.7 VDC | 3400 F | 0.22 mΩ | Threaded/Jove | BCAP3400 P270 K04/K05 | Download |
| 2.85 VDC | 3400 F | 0.22 mΩ | Threaded/Jove | BCAP3400 P285 K04/K05 | Download |
| 3.0 VDC | 3400 F | 0.15 mΩ | Threaded/Jove | BCAP 3400 P300 K04/05 | Download |