AEP Components

Products

Jennings vacuum contactors provide all the operating advantages of a vacuum interrupter plus the benefits of a matching actuator to meet specific application requirements. These low and medium voltage contactors offer the most reliable means of remotely controlling electric power.
Advantages of Jennings vacuum contactors
By employing proven Jennings vacuum interrupter technology, Jennings contactors provide reliable, maintenance-free operation in industrial motor controls and other systems using a wide range of currents and voltages. The operation of contacts within a vacuum offers several inherent advantages:
No required contact maintenance – Contacts are sealed within a very high vacuum and remain clean permanently. There is no contact oxidation or possibility of foreign matter forming on the contacts and leaving contaminating residues.
Long life – The arc that results as the contact is made or broken is quickly extinguished within a vacuum. The special contact material utilized erodes at an extremely slow rate to provide reliable operation for tens of thousands of operations.
Environmental safety factor – Vacuum contactors can be used in environments involving corrosive atmospheres because there is no exposed arcing during interruption.
Compact, reliable operating mechanism – The high dielectric strength of a vacuum minimizes the contact-to-contact gap required to interrupt current. This short contact stroke not only provides high operating speed, but also reduces the size and weight of the operating mechanism used.
No arc chute replacement – Ordinary air-break contactors require fragile arc chutes to extinguish the arc that forms when the contact is broken. Arc chutes are damaged with use and ultimately require replacement. The manner in which vacuum contactors operate causes the arc to be extinguished rapidly with minimal damage or wear.
Proven operation – Jennings vacuum interrupters have been supplied for several decades for use in electrical power generation and distribution systems operating at all voltage levels. The long life and reliability of these devices is such that many of the original units are still in operation.
Low contact resistance – This resistance remains low and stable for the life of the contactor.
Typical applications
Jennings vacuum power contactors are used for controlling DC and 50/60/400 Hz circuits. Principal use is in high power electrical equipment requiring long contact life without maintenance, low-cost, high voltage control or sealed contacts because of environmental conditions.
Switching and protecting transformers used in DC power supplies is one of the most common power frequency applications for contactors. Most transformer switching is done on the primary side for off-on control or to switch out current-limiting resistors or reactors used for reduced-voltage starting of power tubes. It may be necessary to use additional backup fault protection to take care of primary line-side faults. This is sometimes accomplished using a current-limiting fuse or coordinating with a high capacity system breaker already located in the primary side. However, where frequent faults are anticipated, contactors offer a much longer life with no contact maintenance, and they are often less expensive.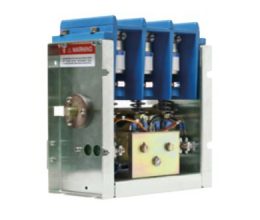 Three-phase vacuum contactors.

view product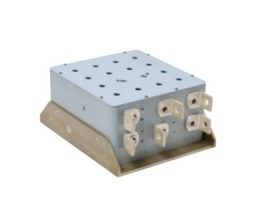 Three-phase vacuum contactors.

view product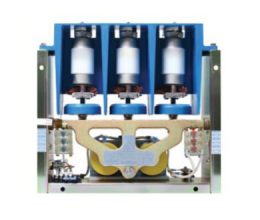 Three-phase vacuum contactors.

view product