We have the pleasure to inform you about our latest addition to our product portfolio: 3D Bolus.

3D Bolus software allows clinicians to perform in-house design and 3D printing of Radiation Therapy Treatment Accessories directly from CT planning images.
3D Bolus can:
Improve treatment accuracy
Improve clinic efficiency
Easily integrate with your existing treatment planning software
Enable the creation of simple bolus accessories
Enable Modulated Electron Radiation Therapy (MERT) which
confirms the prescription isodose to the PTV with a single electron beam
Enable the creation of patient-specific HDR surface brachytherapy applicators with optimized catheter trajectories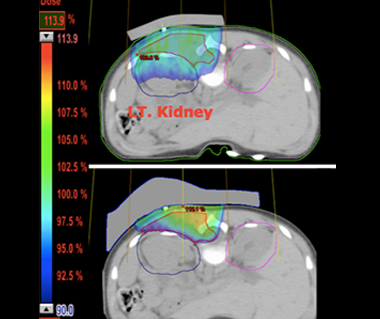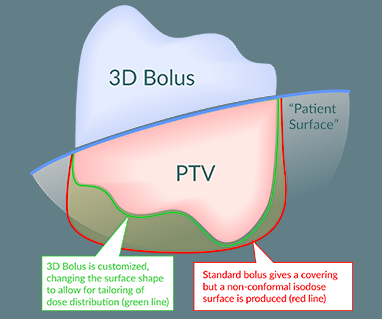 3D Bolus Solutions
Simple Bolus
To overcome the issues of conventional bolus, the Simple Bolus module integrates full with the centers Treatment Planning System in order to produce a patient-specific bolus design based on CT scan data. Custom algorithms within the software automatically calculate a customized design that changes the surface shape of the bolus to allow for tailoring of dose distribution while providing a uniform fit. By relying on 3D Printing innovation, neither the therapists nor the patient need to present during fabrication, saving time and costs throughout the process.
Modulated Electron Bolus
In recent years electron therapy has fallen out of favor due to the inability to conform the high dose to the tumor volume, often being replaced by more sophisticated and conformal photon treatments. However, the sharp dose fall-off of electrons remains highly desirable. To build on a strong foundation, the Modulated Electron Bolus Module enables therapists to tailor the prescription isodose to the tumor volume beneath the skin while still being able to achieve surface conformity. This allows therapists to conduct effective treatments while sparring healthy tissues in the process.
Surface Brachytherapy Applicator
High Dose Rate (HDR) surface brachytherapy is a technique used to treat various types of skin lesions including basal and squamous cell carcinoma. 3D Bolus offers a patient specific alternative to the traditional practice of treating skin cancer using HDR brachytherapy. Traditional applicators are generic, coming in either circular (Leipzig) or square (Freiburg Flap) geometries. With Freiburg Flaps, it is very difficult to conform the applicator to irregular locations on the body, such as the face or scalp. 3D Bolus software allows the user to create a structure of uniform thickness within the treatment planning system that follows the contours of each individual patient. Our custom algorithm generates potential catheter positions within the structure itself at a uniform distance from source to the surface of the patient. The software then performs a subtraction operator to create hollow trajectories to allow the free movement of the radioactive source through the applicator. The catheter tunnels are printed directly within the applicator itself, eliminating the need to drill in tunnels post print. The 3D printed applicator, since it was designed from the patients CT scan, fits to the unique curves of each patient.

Want more information about 3D Bolus?
Please email us at sales@aeplinac.com. or visit our product pages on the website: aeplinac.com/3d-bolus